Klinikum Stuttgart: Pneumology Unit
The Pneumology Unit at Katharinenhospital in Stuttgart deals with all topics related to the lung. "Some of our priorities are for example, cystic fibrosis in adults, breathing therapy to support non-invasive ventilation, infectious diseases of the lungs and help with sleep apnea," explains the acting Head of the section, Dr. Justyna Winiarska-Kiefer.
"Dank der Eva Mayr-Stihl Stiftung haben wir
das erreicht, was unsere Aufgabe war: eine Sektion Pneumologie einzurichten, die ihren Namen verdient."
Dr. Justyna Winiarska-Kiefer
acting Head of the Pneumology Unit

Cystic fibrosis is an inherited failure in the metabolism. The disturbed ion channel in the body cells is sealed, salt and water cannot be diffused into the
surrounding tissue. As a result, all secretions of the body – for example, the bronchial secretion or that of the pancreas, liver or small intestine – are too viscous. This leads to dysfunctions of the affected organs. The disease is fatal and currently incurable. But medical progress has spawned new treatment options that has helped significantly increasing the life expectancy of those affected.
Dr. Justyna Winiarska-Kiefer is the expert at Katharinenhospital: "In the past, patients often did not reach adulthood and were therefore only treated in childrens' and adolescents' clinics. Today, we work closely with the colleagues in order to create new, personalised treatment concepts. That way, we strive to increase life expectancy even more and find the right solutions to the needs of every adult patient.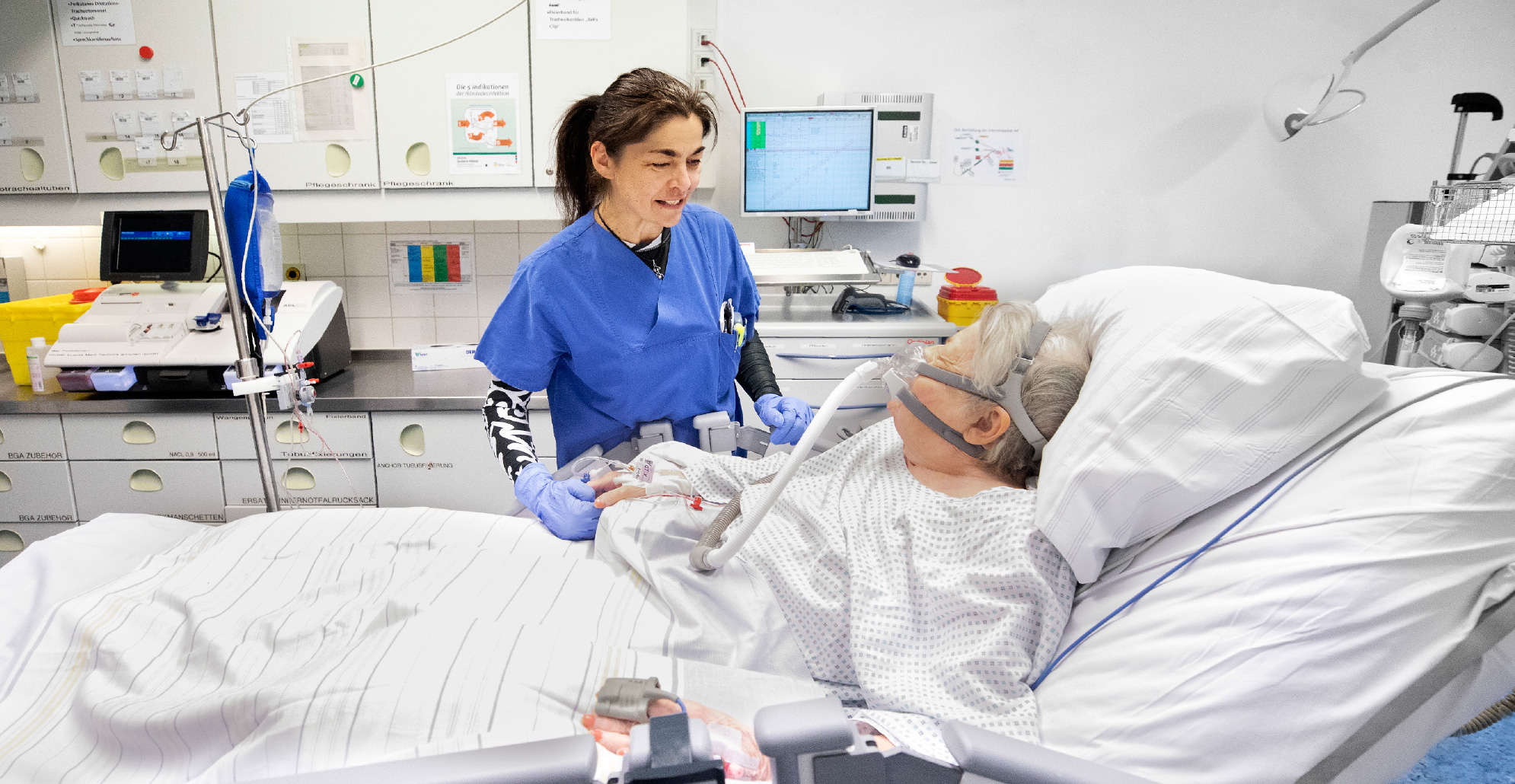 What to do if a patient is dealing with breathing difficulties? To avoid invasive ventilation wherever possible – an intubation or similar intervention in the body – a physiotherapist in Stuttgart pneumology has been trained as breathing therapist Ines Koenig starts ventilations, adjusts devices and interfaces to the patients' needs, conducts blood gas analyses and nocturnal CO2 measurements. She also offers support to other medical units at the Klinikum Stuttgart if necessary. In addition, she regularly trains patients throughout the house. "For us, this is a huge relief. But for patients with chronic respiratory failureit is a quantum leap in care," says Winiarska-Kiefer.